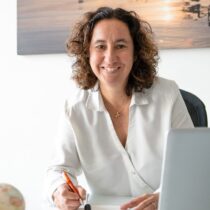 After finishing her studies in Germany, she arrived in Mallorca with a bag of summer clothes … more than 20 winters have passed since then as she found herself well and truly under the spell of the magic of the island.
As the manager of a German pharmaceutical company in Mallorca, she has an acute understanding of what discipline, competitiveness and efficiency are. Through the years, she has also successfully proven that achieving a desirable work-life balance on an island like Mallorca is not only possible, it's even easy.
Passionate about the world and its people, and following on from her success of her business MBS, Nomads in Mallorca is her latest creation.  Marta enjoys sharing moments and experiences with everyone who visits Mallorca, showing them the authentic side of the island. She is always at the ready to help and advise you, and if she is with a glass of wine in hand, all the better!
---
Contact Details
---
Send a Message